Mi Account Unlock tool to Recover Remove Xiaomi Phone Password
Download Mi Account Unlock Tool to Reset or Remove MI Password: So there are many users who want MI Unlock Tool to remove MI Account passwords and if you are one of them If so, you are in the right place. Today in this guide we will show you the easiest way to remove the password of your Mi account. So without wasting too much time, let's start the Recovery MI Account Password Guide using MI Unlock Tool.
Xiaomi is currently one of the most popular companies in the Indian market, the company managed to reach heights in a short time. The best thing about Xiaomi's smartphones is that they make high-end devices at affordable prices. Xiaomi was one of the first brands in India to come up with a fingerprint sensor for less than IN 10,000.
Xiaomi runs on its MIUI, which is very similar in appearance to Apple's iOS. The Miui is one of the best and most feature-rich OS on the market, and the best thing about Xiaomi's Os is that it is also available for any third-party device. So there are many users who forget the password of the Mi account and if you already use a Xiaomi device then you may know that you cannot use your Mi device without signing in. So in this guide, we will tell you the easiest way to download Mi unlock tool and reset the Mi account password.
Download Mi Account Unlock Tool – Remove Or Bypass Mi Cloud Verification
Mi Account Unlock Tool is the best way to Bypass mi cloud verification, However, if we talk about Mi Account Lock then it is also a great security feature as it secures all your files and Personal data But what if you get stuck with mi account Lock? In that case, you can use the Xiaomi Unlock tool and Restore your Xiaomi Smartphone.
It happens many times when we want to reset our smartphone or we just installed a new version of Miui 12 on our device, So as soon as you open the smartphone you will be asked to enter your Mi Account. So here, in that case, this guide will be useful for you. So Below are some of the smartphones that are supported:
Mi Account Unlock Supported Smartphones
Redmi Note 3
Redmi Note 4
Redmi Note 5 / pro
Redmi Note 6
Redmi Note 6 Pro
Redmi Note 7
Redmi Note 7 Pro
Redmi Note 3G
Redmi 1s
Redmi 2/2 Prime
Redmi 3/3s/ 3s Prime
Redmi 4/ 4a/4s
Redmi 5/ 5a
Redmi 6/ 6a
And All Xiaomi Smartphones can be unlocked using this tool
Forgot Mi Account Password – How to Solve?
So there are many users who forget mi Account password and they end up in a situation where their Xiaomi phone gets locked due to trying Multiple wrong patterns and Pins. In that case, the only thing you can do is enter your username and password to Unlock Mi Phone, But what if you can't remember? Then you can follow our Guide to Download Mi Account unlock tool to Remove Mi Account From Xiaomi Phone.
So if you Forgot Mi account password and want to Remove Mi Account from Redmi Phone then the only possible way is to Bypass the Mi cloud verification to enable your Device or by removing the Mi Account from your Phone. The Xiaomi unlock tool is the best method to solve your problem.
You need not worry about anything if your phone gets locked or you forget your username. In this guide, we will tell you the easiest way to Download Mi Account unlock tool to recover your password. The Mi unlock tool works almost on every Xiaomi Device So you can follow all the steps and get back your device without any complex steps.
Before you start the guide there are some points and pre-requirements you have to Keep in Mind So make sure you read and follow all of them carefully:
Things to Remember before you Unlock Mi Account
Make sure there is more than 65% battery on your Android Smartphone
Make sure you use this guide only on your Xiaomi Smartphone
Make sure Your device is connected to the Internet
Make sure you try this on Xiaomi Smartphone Only, This tool will not work with any other brand.
Mi Account Unlock Tool Details
| Tool Name | Mi Account Unlock |
| --- | --- |
| Size | 10MB |
| OS | Windows 10/8/7/XP |
| Developer | Xiaomi Team |
| Updated on | 28/10/2018 |
Name: Mi Account Unlock tool rar
Format: Mi Account Unlock tool rar
Platform: Windows 10/8/7/XP
Steps to Unlock Mi Account using Mi Unlock tool
First of all, Make sure that you have read all the points in the Pre-requirements section
Now Download Mi Account Unlock tool From Above given Section, Copy it to a new folder on your PC or laptop
After Downloading Extract the Mi Account tool.exe as Administrator
Now turn off your Xiaomi Redmi Smartphone
Now Boot your Device into Recovery Mode, To boot your Xiaomi in Recovery mode you have to Press and Hold the Volume Up+Power Key button together. Release the keys when you see Mi Logo.
Now run the Mi unlock tool on your PC
Now connect your device to your PC using a USB cable
Now Tap on the information tab on Mi Unlock tool, As soon as you tap on the Info tab you will all the information about your device on the screen.
Now press on the Bypass mi account option.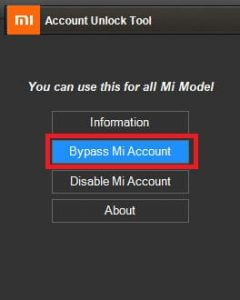 As soon as you tap on Bypass Mi Account Option your Phone will reboot.
That's all!!! This is How you can Bypass Mi Account on Any Xiaomi Phone
The First Reboot will take More time than usual, However, it's totally normal.
The Mi Account Unlock tool Now supports New Xiaomi Devices as well, So if you are on a new device Need not worry as the Tool Supports almost all of the New Devices. Xiaomi has launched Several new devices in India out of which Redmi note 7 pro and Redmi Go are the latest ones on the List. So if you are one of them who is using Newly launched Devices from Xiaomi then you can Also Use this tool to solve almost your all problems.
Some users reported that even after installing the latest drivers, Tool was not able to recognize their Xiaomi smartphones. So if you are facing the same issue you can use the Original USB cable provided with your Xiaomi smartphone and thereafter your Pc will recognize your smartphone.
This unlock tool is basically used to Unlock any smartphone, Just like apple's iPhone Xiaomi also comes with Mi Account, And by any chance, if you forget your password or Mi Account details you can log in to your Device. So the only solution to this problem is that you use this tool to Open your smartphone.
Mi Account Unlock tool Rar
As we all know very well the mi unlock tool is used to reset or remove mi account password, But most of us get confused between the Mi account unlock tool rar and the Mi Flash tool. So basically this tool is used to Unlock the Miui account whereas the Mi Flash Tool is used to flash a newer versions of Miui on your device, And if you are one of them who wants to Remove passwords from your Xiaomi android device without a hard reset.
There are many ways with which you can easily remove the screen lock and pattern on your Xiaomi smartphone, however by using the Account unlock tool is considered as one of the safest and most working methods in 2022, Some of the users were complaining that they were not able to use Whatsapp Web on their device but now that issue is also solved. The process takes around 15-20 minutes to complete however sometimes it can take a little bit more, As it completely depends on the Device.
Xiaomi is one of the biggest smartphone manufacturers in India and they launch new devices almost every month, So to keep this tool updated we update the Guide regularly to support all the devices. Also if you want Free spins link then you can get them as well. some of the recent devices from Xiaomi are redmi Note 7 and redmi note 7 pro and we have updated the Guide for them as well.
There Are many users who try to Open their smartphones without using a Sim Card which is also one of the biggest problems, to Log in to your Mi account one must need an Active internet connection. Also, you can go to any nearest official Mi Service with an Official bill to get your Xiaomi Smartphone unlocked, However, they will not take any guarantee of Data Loss because installing a New Firmware needs a Full Factory reset of your device. incase you are stuck at any point you can always reboot your device.
Mi account unlock tool password key
So many Of you Might Not not the Password key for Mi Account unlock tool itself, However, the best thing about this is that We have Provided the Mi Account Unlock tool password key as well in this post. So you can enjoy unlocking your Mi Account. In case this password is also not working for you then you can try the alternative password. This Guide has been Updated with All The latest Smartphones Which Are launched Recently. By Any chance, if your smartphone is not on the list. Feel Free to Write Down in the comments section below. Also if you Want the TPS Xiaomi tool you can Have a look at Our Guide on that As well
Mi Password remover
So Many peoples want to use the Mi password remover on their Mi Account Locked phone, So to Remove mi password from your Xiaomi Device Make sure you follow all the steps given above. We have updated the Guide with the 10Th July 2022 method and Almost all Xiaomi Phone passwords can be removed using these Guides.