After a couple of months of several developer preview and public beta builds, Google has finally released the much-awaited Android 11 OS Stable version officially on September 08, 2020. It's the latest stable release as a successor version of Android 10 and all the eligible Pixel devices users can straight away download it. Here you will come to know some of the best Android 11 Features that you need to know before using it or being an Android fan.
How to Get Android 11?
Android OS updates are the slowest or phase-type process to the non-Pixel Android devices that take months and in some cases almost a year (depending on OEMs). However, some of the Android smartphone OEMs like OnePlus, Samsung, etc can take lesser time. But the rest of the OEMs mostly struggles to deliver the major Android OS update to its eligible devices even with the promised roadmap details.
Best Android 11 Features You Need to Know
Currently, we can say that this is the final build of Android 11 which has covered quite a long way. So, let's check out all the best and most useful features that all the Android 11 users should know to experience the UI and functionalities up to the full extent. These are just a couple of features that the front-end users will come to know.
Otherwise, there are hundreds of improvements and features which are only applicable to the app developers for a more improved and stable Android app experience. Still, eager to know more about the developer features of Android 11? Check the Android 11 Developer Site.
1. A New Power Menu
Whenever you long-press the Power button, it appears the new Power Menu in Android 11. Previously the power menu only contains restart, power off, and lock.
Now, things are changed drastically and you can also access default Google Wallet (Debit/Credit Card/Google Pay), Boarding Passes, other online tickets, or Samsung Pay, smart home controls using the Google Home app, etc.
2. Conversation Notifications
Now, users can use three notifications categories unlike the Android 10 or older operating systems. Such as Conversations, Silent, and Alerting. While the rest of the two categories are, as usual, the Conversations category has been improved a lot and you can also communicate others directly with the text messages or chat messenger applications.
Additionally, users can also prioritize conversations and apps notifications according to their importance or preference. While the alerting and silent system works the same as before. No change in these two.
3. Notification History
Have you ever swiped away any notification that was useful or important to you? If yes, then the Notification History will save a lot of time and you'll find it very useful in your daily life. It basically allows you to check all the incoming notifications for the past 24 hours. Although you have to enable this particular feature on your Android 11 device from the Settings > Apps & notifications > Notifications > Notification history.
Once you've enabled this option, whether you've swiped any notification unintentionally or not, you will be able to check all the incoming notifications up to 24 hours of period.
4. Redesigned Media Player Control
So, previously when you play music in your Android device, it basically got displayed under the shortcut toggles along with the notifications and all the notifications appeared under the media player control. Now, the media player control comes with the shortcut toggles in Android 11. That means you don't have to clear all the notifications which are covering your media player interface all the time.
Meanwhile, the redesigned media player control offers a couple of useful options like changing the connected devices between phone speakers, smart speakers, or headphones. Really cool thing.
5. Chat Bubbles
So, in short, just like the Facebook Messenger, now all the chat messaging applications including the text messaging app like Samsung Messages or Android Messages app will show you the incoming or unread notifications as a chat bubble functionality.
Either tap on the chat bubble to open up the unread message or simply drag down to the bottom end to dismiss the bubble notification. A fully inspired FB Messenger chat bubble but for some users, it will surely gonna become useful.
6. Built-in Screen Recorder
Android 11 now comes with a default screen recording option and you will find the shortcut toggle to turn it on/off from the notification panel. Although Google's Android developers have delayed it a little bit, it's better to be late than never.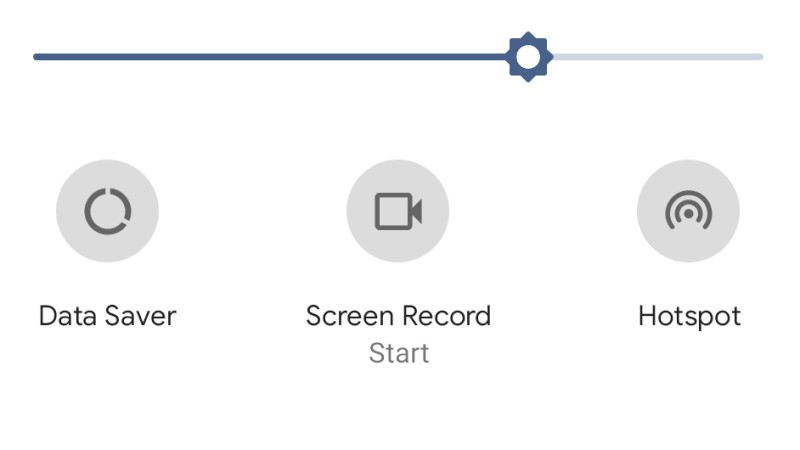 Additionally, you can also choose recording audio devices and show touches on the display while screen recording option for better user experience.
7. Smart Device Controls
Again we've come to the new power menu option where you can now find the smart device control option on Android 11 running devices. By long-pressing the power button, you will see the overall design changes in the power menu interface. The Emergency, Power Off, Restart options are shifted to the top now.
While the Google Pay option along with smart home controls is included in the power menu option as well. Obviously, there are menu buttons to customize or shift the location according to your choice.
8. One-time App Permissions & Auto-Reset
In order to increase the user's privacy and consent-wide access or usage, Google has now improved the one-time app permissions and auto-reset option quite well. Previously, all the first-ever installed apps were asked for the all-time app permissions to the users which were very unnecessary.
Now, users can allow the only specific permissions to an application according to their choice or usage. For example, if a dialer or messaging app asks you to grant the location or media permission, you can easily deny all the unwanted app permissions excluding the contact permissions which is obviously necessary to run the dialer or messaging app properly.
In that case, previously, most of the applications denied to open or work after rejecting such unnecessary permissions. But not anymore. Whether the app requires any particular permissions very badly or not and if a user grants that permission or not, the app will launch and run well. Still, if you feel that the app can't perform well without any specific permission which is really required, you can head over to the Settings menu > Apps & Notifications and then enable the necessary permissions easily.
Meanwhile, most of the users previously have enabled the permission and then they forgot to revoke it. Now, in Android 11, the system will automatically reset the granted app permissions once the app usage is over after a certain period of time (if unused for a long time). In this way, the chances or getting vulnerable through app permissions will be decreased easily.
9. Scheduled Dark Mode
So, just like Apple's iOS 13 or later, now, the Android 11 also offers you to set the dark mode/theme in a scheduled time on a daily basis. That means you don't need to manually turn it on/off according to the daylight or night-time conditions.
Either you can always turn it on/off or you can simply enable turn on from sunset to sunrise in an automatic manner or turn on at a certain period of time (custom time input). Really useful.
10. Google Play System Update
Thanks to the Project Mainline on Android 11 for the Google Play System Update method without interfering OEMs framework and system applications any more. So, this project allows Google to completely take control over the Google Play System updates in order to push the major security patch updates or the latest updates as early as possible.
Previously, it was a very tedious or slow process to release updates for the devices according to the OEMs framework. Now, basically the updates will be available via Google Play Store in a safe and secure manner.
11. App Suggestions (Pixel Only)
As the title suggests, only the Pixel device users can get App Suggestions in the Pixel Launcher interface. With the help of Android 11, now users can let Google's AI smart control the apps from the dock. Meanwhile, if you don't find this feature useful, you can always turn it off.
12. App Pinning to the Share Sheet
Now, you can manually pin your useful or favorite apps in the share sheet menu. That means whenever you share something on your device from the Sharing option, your manually added application will be available there in Android 11.
Whereas on the Android 10 or previously operating systems didn't allow users to manually pin or add apps to the sharing menu.
13. Wireless Android Auto
With the Android 11, each and every smartphone users can now use the Android Auto system wirelessly. Make sure the head unit of your car supports the wireless Android Auto feature. Although those who're using older generation cars may find it difficult to use this feature, the upcoming Android OS generations will definitely include this particular option from now expectedly.
14. Exposure Notification API
Google and Apple have collaborated to build the Exposure Notification API which allows developers to use off-limit data from Android devices and iPhones quite easily with contact tracing for the COVID-19 pandemic. This feature is turned on by default and can be used according to the region basis. However, not all the regions have implemented this feature to work properly on Android 11 or iOS 14 or above devices yet.
15. Improved Voice Access (Accessibility)
Voice Access is an accessibility feature that has been introduced by Google a couple of years ago but it seems that the real improvements have been done on Android 11 right now. That means voice access becomes more improved and useful based on the context and the content on the display than ever.
For example, you will just need to say the name of any app or the action that you want, and the voice access feature will automatically detect it.
16. Bluetooth Works with Airplane Mode
If you're using Bluetooth for talking over the call or listening to music and you turn on the Airplane mode, it won't get disconnected anymore on Android 11. Although it will still turn off the Wi-Fi and mobile data forcefully.
17. Smart Reply
As the name suggests, the Android 11 operating system allows users to reply for any incoming messages whether it's a text message or chat message using the preloaded templates so quickly. Most important, it auto-detects the pattern of the message and suggests you similar to the context.
For example, if someone sends you a message 'How are you?' and whenever you open up the message to give a reply, the Android 11 system will automatically detect the type of the message and suggests you something like 'I'm fine' or 'Great' or 'Good' etc right at your fingertips.
18. Smart Folders
Smart Folders are the smarter way to organize your added apps in a folder on the home screen. You will get intelligent suggestions for the folder name on your Pixel devices. That means you don't need to create or think a new name for that folder always.
That's it for now. We will keep trying to update this article with more useful features of Android 11 (R). Till then stay tuned for more info.